Bungee cords is what characterizes a bellicon Rebounder, the newest generation of high quality rebounders. Compared to the outdated spring based rebounders, bellicon offers five different strengths of bungee cords so that everybody can get the optimum bounce with the highest possible workout efficiency. Another company that manufactures spring-free rebounders is Jumpsport. However, contrary to bellicon, they do not offer different bungee cords strengths for different weight categories; they set up their rebounders with a preset bungee cord set. Some of their models allow to adjust the bungee cords to make the bounce stiffer, but for people under 150 lbs the strength they come in, is not ideal.
bellicon rebounders allow everybody to use a bungee cord strength that is ideal for their weight category and their workout expectations.
They distinguish five different strength of bungee cords: soft, medium, strong, x-strong and utra.
Note, that the color of the bungee cord itself has no influence of the strength of the bungee cord. It is the METAL CLIP that holds a bungee cord together that is color coded. See image below:
Which bungee cord strength is right for you?
Below you find the general recommendation. If you have health issues (for instance Osteoporosis) or special health issues, you can contact us and we will counsel you of which bungee cord strength to order.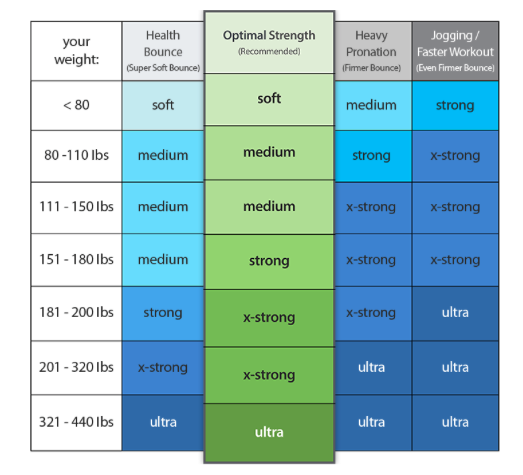 from left to right:
bellicon 49
bellicon 44
bellicon 39

Note: the new bellicon mats
don't have the name 'bellicon'
written in the center any more.